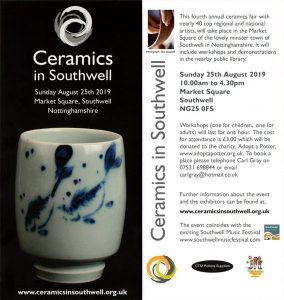 ---
CERAMICS IN SOUTHWELL 2019

SUNDAY 25 AUGUST, 10am to 4.30pm
Market Square, Southwell NG25 0FS
View our Ceramics in Southwell 2019 flyer
by clicking on the image .
---
WORKSHOPS (one for children , one for adults) lasted for one hour. The cost for attendance was £3 which was donated to the charity 'Adopt a Potter'. To book a place please telephone Carl Gray on 07551 698844 or email carlgray@hotmail.co.uk.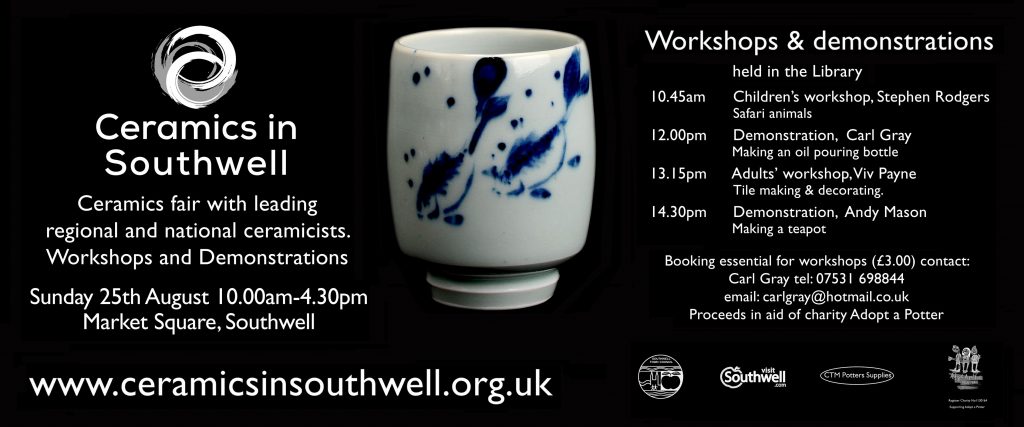 EXHIBITORS – The following is a list of the exhibitors who took part: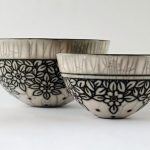 Debbie Barber
Decorative ceramics with exquisite patterns. Naked Raku bowls, vases & bird forms are slip cast or hand built.
Web: www.debbiebarber.co.uk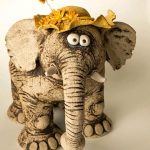 Jean Blood


Stoneware ceramic figures with a touch of humour.
Web: www.oddbodsceramics.co.uk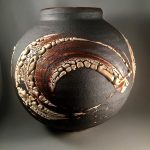 Stephen Booton
Reduction fired stoneware.
Web: www.stevebootonceramics.com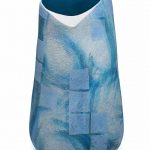 Katie Braida
Sculptural vessels and forms.
Web: www.katiebraida.com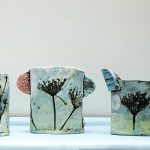 Gael Cherry
Colourful handbuilt ceramics.
Email: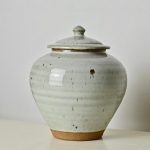 Charlie Collier


Domestic stoneware.
Web: www.etsy.com/uk/shop/charliecolliershop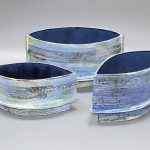 Dianne Cross
Handbuilt vases, boxes, vessels and wall pieces evoking the feeling of seashore/marine landscape.
Facebook: Dianne Cross Ceramics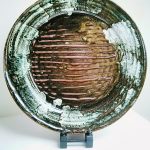 Ben Dodd


Gas-fired, ash glazed functional stoneware.
Web: www.potterdoddceramics.co.uk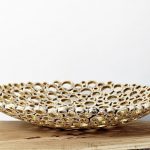 Lisa Ellul


Handbuilt vessels and wall art inspired by the natural world.
Web: www.ellulceramics.com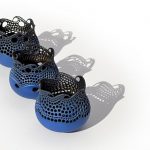 Bob Emmett


Decorative pierced and semi pierced stoneware and porcelain, hand thrown and slip cast.
Web: contemporarycraftsnetwork.org/ccn-members/bob-emmett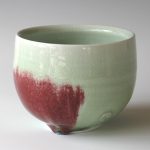 Antje Ernestus


Porcelain pots with high temperature glazes. Gas fired.
Web: www.studiopottery.co.uk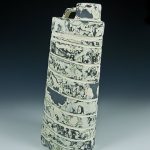 James Faulkner


Decorative stoneware. Sculptural and vessel objects.
Web: www.JamesFaulkner.co.uk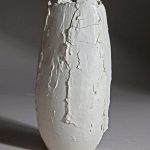 Jill Ford


Wheel thrown porcelain bowls, vases and tall standing forms decorated with deep textural relief inspired by patterning on the mountains of N W Highlands.
Web: jillford.com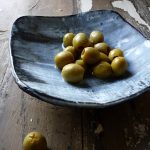 Michelle Freemantle
Thrown and press moulded domestic stoneware, slip and inscribed surface decoration.
Web: www.creativelyoccupied.com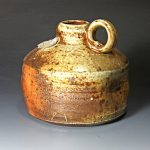 Carl Gray
Simple thrown functional wood fired forms, sustainably made.
Web: www.carlgrayceramics.co.uk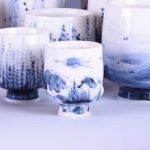 Richard Heeley
Blue and white porcelain.
Web: www.richardheeley.com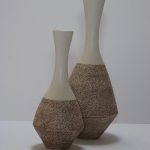 Jean Jenkins
Sculptural stoneware vessels using coils and slabs to construct the forms.
Web: www.jeanjenkins.co.uk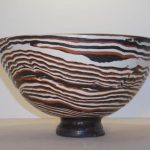 Suzan Kemp


Agate ware – Abstract and functional.
Web: chezsuzanceramics.com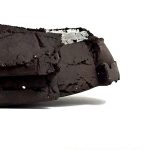 Jo Keogh
Abstract vessels formed using individually constructed moulds.
Web: www.jokeoghceramics.co.uk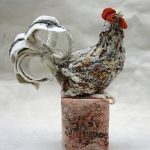 Jan Lewis-Eccleston
Porcelain and stoneware sculpture inspired by the natural world and man's place in it.
Web: www.facebook.com/janatjleceramics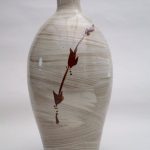 Jim Malone




Stoneware and some porcelain

.
Web: www.jimmalonepottery.co.uk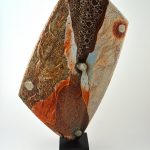 Nicholas Marsh


Vessels and sculptures with texture and flame painted surfaces.
Web: www.nicholasmarsh.com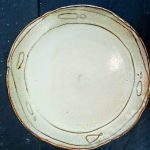 Andrew Mason
Robust, rustic tableware with subtle motif decoration.
Facebook: AndyMasonCeramicsandFood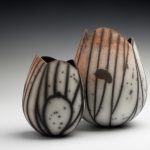 Fiona Mazza
Decorative ceramics influenced by landscape, and the nature in the landscape.
Web: www.fionamazza.co.uk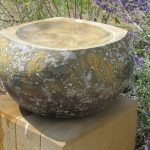 Susan Morton
Thrown and handbuilt stoneware, mostly woodfired, for the home and garden.
Email: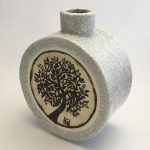 Lesley Nason


Hand built porcelain wall art, vessels and jewellery inspired by the British countryside, flora and fauna.
Web: www.lesleynasonceramics.co.uk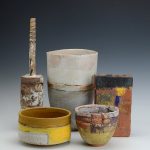 Oakwood Ceramics
Oakwood Gallery is a source of rare collectable studio pottery, both new and previously owned works will be on our stand at Ceramics in Southwell.
Web:
www.oakwoodceramics.co.uk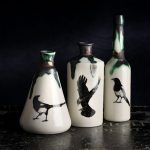 Jillian Riley


Slip cast and hand sculpted poison and apothecary vessels.
Web: www.jillianriley.co.uk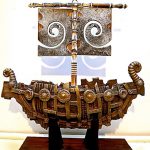 Mark Smith


Maritime sculptures made from ceramic and recycled materials.
Web: www.marksmithceramics.com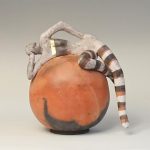 Emma Spence
Smoke fired ceramic figures.
Web: www.emmaspence.org
Ken Taylor
Gas fired domestic ware and one-off pieces.
Web: NPA Website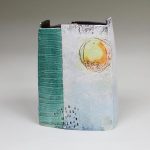 Craig Underhill
Slab built vessels with painterly surfaces.
Web: www.craigunderhill.co.uk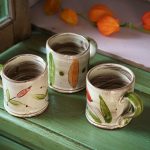 Josie Walter


Slip decorated earthenware.
Web: www.josiewalter.co.uk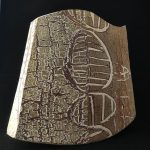 Trudy Weir
Slab built laminated clay vessels, unglazed surface.
Web: www.trudyweir.co.uk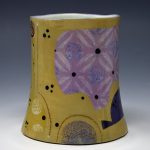 John Wheeldon
Underglazed decorated vessels.
Web: www.johnwheeldonceramics.co.uk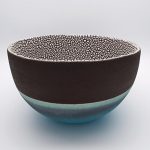 Emma Williams
Low fired decorative press moulded bowls and brooches.
Web: www.ew-ceramics.co.uk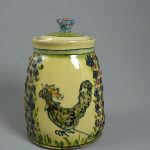 Katherine Winfrey
Slip decorated domestic earthenware.
Web: www.katherinewinfrey.co.uk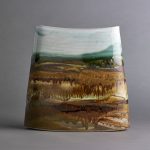 Penny Withers
Thrown and altered stoneware.
Web: www.pennywithersceramics.co.uk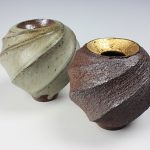 David Wright
Hand built, coiled, woodfired pottery.
Web: www.davidwrightpottery.co.uk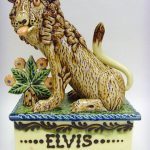 Paul Young
Decorative and domestic earthenware inspired by English Folk arts tradition.
Web: www.paulyoungceramics.co.uk