A ceramics fair with leading regional and national ceramicists, plus workshops and demonstrations.
Our next event will take place on: Sunday 25 August 2019, 10am to 4.30pm.
Venue: Market Square, Southwell, Nottinghamshire NG25 0FS
APPLICATIONS ARE NOW BEING INVITED.
If you are interested in exhibiting at this unique and successful event in this its fourth year, please write to susanjmorton@aol.com for an Application Form, which will provide details of the application process, stall fees and stall sizes, etc.. The event again is concurrent with the 5 day, prestigious Southwell Music Festival.
Ceramics in Southwell is organised on a not for profit basis.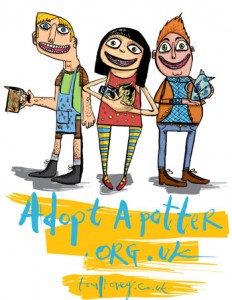 Supporting the Charity Adopt a Potter.