A ceramics fair with leading regional and national ceramicists, plus workshops and demonstrations.
Our next event will take place on: Sunday 26 August 2018, 10am to 4.30pm.
Venue: Market Square, Southwell, Nottinghamshire NG25 0FS
To apply please contact Susan Morton via our Contact Page by January 15th for an Application Form.
Ceramics in Southwell is organised on a not for profit basis.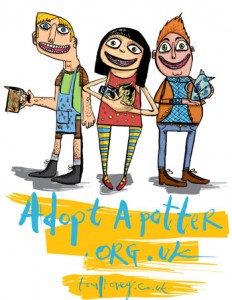 Supporting the Charity Adopt a Potter.